Blevins Reeives 2012 Jersey Tony Award For Best Director-Choreographer
"Michael Blevins is a wizard of a director/choreographer!"
--Peter Filichia, TheaterMania.com


Off-Broadway - National Tours - Network Television - Music Videos - National Commercials - Original NY Workshops
Small Professional Theaters - Regional Theatre - University Theatre - Community Theatre - Youth Theatre - YOUR Theatre



"Blevins work . . . . big and lively enough to pass for Broadway-level quality." ~William Westhoven, JeffersonPatch

"Director Michael Blevins also did the choreography. His Broadway history is clearly showing." ~Sheila Abrams, Ruth Ross Blog-NJ Arts Maven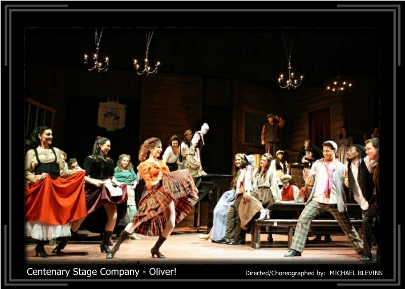 Off-Broadway credits include, choroegraphy for The Mad Forest, [Manhattan Theatre Club & the New York Theatre Workshop], direction and choreography for Count To Ten in the New York Musical Theatre Festival, [Theatre At St. Clements] where his choreography received an Honorable Mention in the NYMF's Best of Fest Awards for Excellence in Choreography. Other New York productions include: NY revival of Seesaw and Quick Curtains, [Group Theatre Too] and the aacclaimed Miss Evers Boys, [Red Fern Theatre Company].

He is currently a director/choreographer for the Centenary Stage Company, an Equity theatre in residence at Centenary College in New Jersey and has directed/choreographed Menken's A Christmas Carol (for which he won the 2012 Jersey Tonay Award as Best Director/Choreographer), and most recently his highly acclaimed production of Peter Pan there. Other Centenary Stage Company productions include, Oliver! Nunsense, Wizard of Oz and Little Shop of Horrors. Favorite regional productions include "The Subject Was Roses", and "A Thousand Clowns" for the American Stage Company. He has Directed and Choreographed the National Tours of "Babes In Toyland", "Aladdin", and "Tom Sawyer" for the American Family Theatre as well as "aftermath" a social awareness play that toured both public and private high schools reaching over 5,000 students in the Tri-State area. He was comissioned to direct and choreograph "American Sampler: 100 Years of Musical Theatre Dance" for the New Jersey Performing Arts Center.

Blevins has choreographed several national TV commercials for "Days Inn", plus, regional spots for the NJ State Lottery, and music videos for redording artists Melba Moore and Amy Grant. He has lent his choreographic assistance to a long list of network television specials including "How To Be A Man" with Scott Baio [CBS]; The Nashville Palace with Andy Griffith [ABC}; and "The Country Music Awards" with Charlie Daniels and Barbara Mandrell [NBC]. Michael's work is featured annually Off-Broadway in the Group Theatre Too's Choreographers' Canvas and Blevins recently helped to recreate original tap choreography from the Broadway production of THE TAP DANCE KID for Jason Samuels, Dule Hill and Jimmy Tate to perform in a tribute to Tony Winning Choreographer Danny Daniels at City Center in Manhattan.

Blevins is the Co-Founder and current Artistic Director of the Group Theatre Too a New York based theatre company.